FRESH. EXPERIENCED. SUSTAINABLE.
The

Afrikanische Frucht-Compagnie

GmbH
We supply Europe with fresh bananas – we have been passionately doing this for more than 100 years.
We operate internationally, partner with local producers and focus on ensuring efficient logistics and a permanent supply year-round.
Quality.
We import bananas to Europe several times on a weekly basis. We do this by complying with the highest quality standards in the market.
Modern and agile.
Our focus is to remain modern, agile, and always up to date. Our success recipe is having the perfect balance between a future-oriented vision and the preservation of our traditional values.
Strong network.

Our strong network allows us to collaborate with long-standing partners in a sustainable and efficient manner.
Continuous supply of goods.
In this way, we can guarantee a continuous and punctual supply of goods for our customers and assure the high quality of our products.
Competent.
Our competent team goes the extra mile for our customers and partners. This (together with the high quality of our bananas) has earned us the trust of the industry and a high reputation for already many decades.
TRADITION. CHANGE. FUTURE.
OVER 100 YEARS OF BANANA IMPORT

A lot has happened since our foundation in 1912. But a few key things have remained the same: Our headquarters are still in Hamburg and the quality of our products is still unsurpassed. Our bananas remain simply delicious, fresh, and healthy.
The history of the Afrikanische Frucht-Compagnie GmbH begins in 1912 with its foundation in Hamburg. During these first years, everything revolves around the cultivation, import and sale of tropical products. From the beginning, the focus is on a specific fruit – the banana. The most important product back then was the fig banana, which was sold dried in Germany.
Bananas are grown on ca. 3,000 hectares in Cameroon. Approximately 240,000 bunches are processed into fig bananas and the remaining 570,000 are imported as fresh bananas. The banana business booms, and the Afrikanische Frucht-Compagnie GmbH becomes one of the main players in the industry. As a result, several of our own refrigerated vessels were built until 1936.
Bananas are no longer shipped in whole bunches, but in boxes, and now come from Central and South America. From the mid-60s, the previously consumed banana variety Gros Michael can no longer be planted due to the Panama disease. Other banana varieties begin gaining recognition. The extremely pressure-sensitive Cavendish variety starts becoming popular – a solution needed to be found to transport these bananas without damaging the fruit. Carton boxes were the answer! Product quality is significantly increased by this revolutionary way of shipping.
A face that is familiar to many today in Germany makes its first appearance: the Afrikanische Frucht-Compagnie GmbH establishes the Onkel Tuca brand. From this point onwards, the banana brand becomes popular throughout the country. Particularly in northern and eastern Germany, it becomes the undisputed market leader.
More than 25 years later, there are further innovations. The quality remains the same, but the brand gets a new look. The Onkel Tuca logo becomes more colorful, and the new design is modern. The relaunch of the brand is a great success and is well received by consumers.
New topics are increasingly gaining significance: How sustainable is the banana? What can we do to protect the environment and its natural resources? How can producers worldwide be supported in the long term?

These topics concern us, we want to shape the future.

That is why, for instance, we only work with "Rainforest Alliance" or "Fairtrade" certified partners and are also certified ourselves as a "Fairtrade" organization.

YELLOW. HEALTHY. AND DELICIOUS.
OUR PRODUCT – THE BANANA

The yellow fruit is without a doubt one of the most popular fruits worldwide. Nowadays, we enjoy bananas in all forms and variations. We eat them cooked, baked, grilled or as ice cream. We drink them in juices, milkshakes, or smoothies. Bananas are versatile, healthy and above all: delicious!
Slide 1
How do bananas get to Europe?
A supermarket without bananas? We can't really imagine that anymore. But how do bananas get to Europe? Bananas are delicate fruits that need to be handled with care. The journey to the consumer's table is longer than what some may imagine.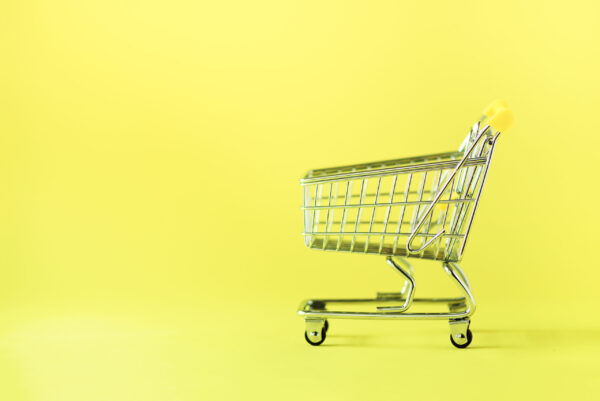 Schritt 1
For our bananas, it all starts in Central and South America. The fruits grow slowly, searching out for the sun on the plant's main stem. Thanks to professional care, the perennial plants become 3- to 4-meter-high within less than a year, allowing a harvest of up to four times annually. Once the plants bloom, the real magic begins.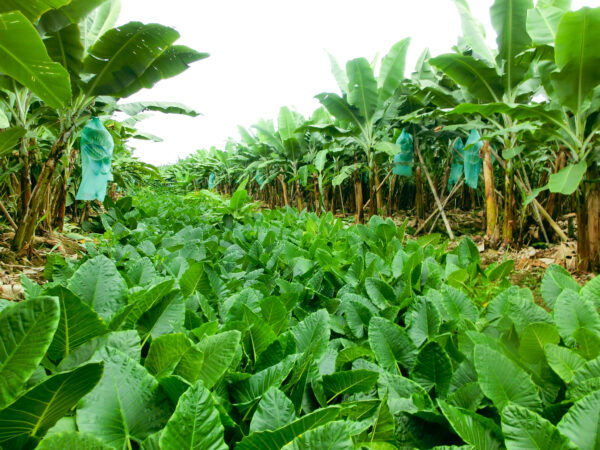 Schritt 2
To protect the sensitive fruits, the production experts on site place a protective cover around the bananas. By doing this, wind and insects are kept out and a microclimate is formed within the cover. These ensures the perfect growing conditions that guarantee consistent quality.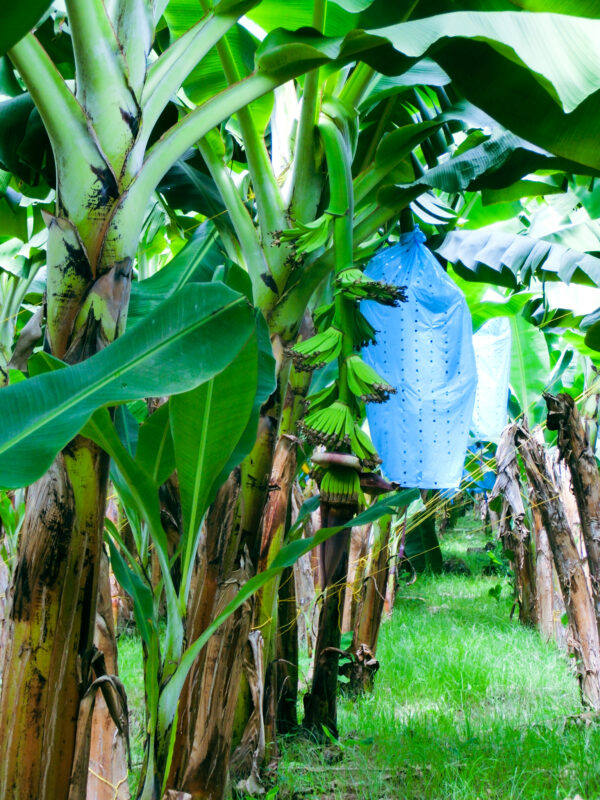 Schritt 3
Banana plants are true high performers. Each plant produces from 100 to even 200 bananas – that's quite a lot. Once the bananas are the right size, they are harvested. At harvest, the bananas are still green.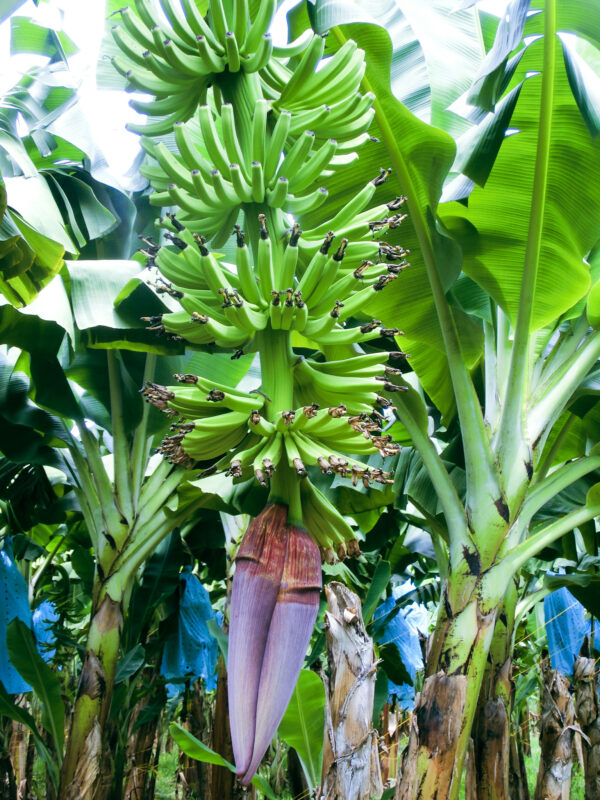 Schritt 4
The bananas are now washed. Washing and preparing the bananas for transport is an important step that is, still today, done by hand. This is because the sensitive fruits must be treated very carefully to avoid unnecessary pressure or bruises on the fruit's skin. Afterwards, banana bunches are cut into suitable "hands" and checked for quality again. Finally, they are packed in boxes and can start their journey.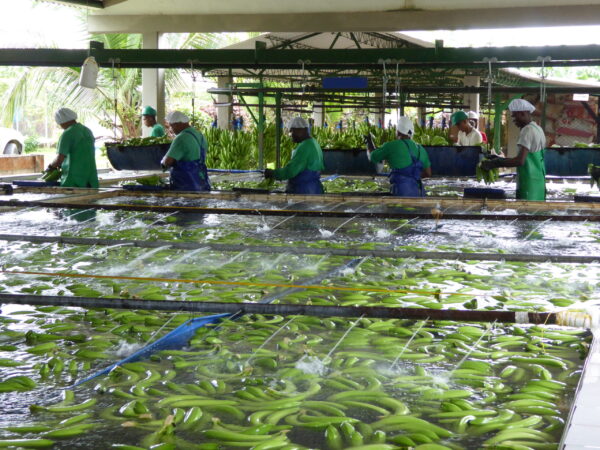 Schritt 5
The bananas are now transported a short distance to the port. There they arrive, still green, in a refrigerated container. The container is equipped with the latest technology to keep a constant temperature of 13° degree Celsius. By doing this, the bananas are nearly "put to sleep" so that they survive the transport well. The ship can then begin its journey towards Europe.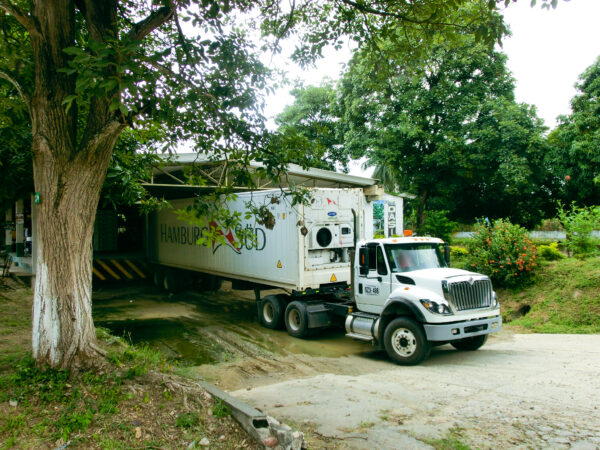 Schritt 6
Once in port, the unripened bananas are loaded onto trucks and train wagons and then transported to professional ripening stations. After arriving at the stations, they are brought to the perfect level of maturity in the ripening chambers. The sweetness of yellow bananas is the result of a natural process, which transforms starches into sugars. To ensure an outstanding quality and taste, this process must be carried out in a controlled manner in a ripening facility.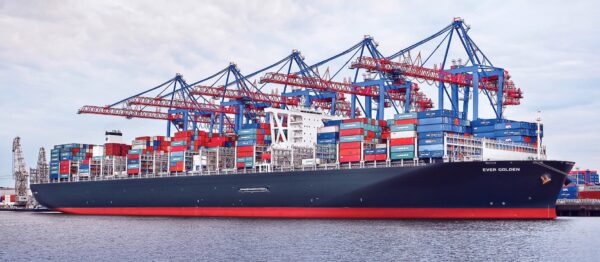 Schritt 6
The last step: The bananas finish ripening and now go on sale. First, they reach the supermarket shelf, and soon after, your shopping basket.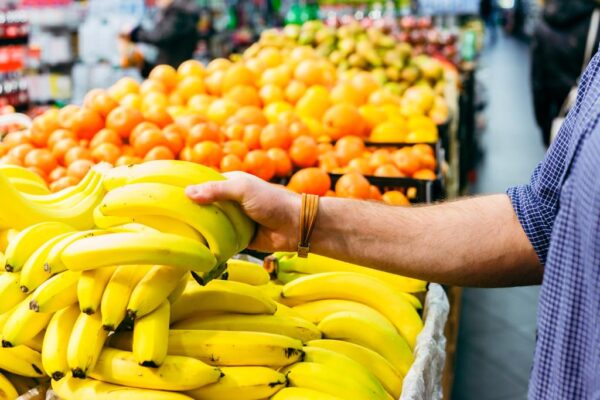 Would you like to learn more about sustainability? Then click on the button here and read on.
PLEASE DO NOT HESITATE TO CONTACT US.

WE ARE LOOKING FORWARD TO MEETING YOU

Are you interested in working with us or would you like to find out more about our products? Then feel free to contact us anytime.